Sweet T's Book Club Selection for August 2017
Book Club Rating: Thumb's Up
Sweet T's Rating: 4 out of 5 stars
Our book club really enjoyed reading this comedy of manners set in modern day England with a decidedly old-fashioned Major Pettigrew and circumstances that try his patience and test his heart and his backbone.
Major Ernest Pettigrew is retired and living a simple, routine life in a pretty and quiet village. His days include regular golfing and shooting outings and lunches at the club. The death of his brother sends him into a state of grief, just as a woman, Mrs. Ali, becomes more than just the village shopkeeper to him. He suffers agitation from his self-centered son and a cast of town characters and busybodies and witnesses surprising prejudice from those around him.
Helen Simonson's writing style is a delicious mix of beautiful words and images. It has sharp, wry humor with an underlying depth of feelings and ideas about society and morality.
We had the delightful opportunity to Skype with her!
A conversation with Helen Simonson about Major Pettigrew's Last Stand
We asked how she comes up with her fascinating characters and what experiences and people from her life brought these interesting folks to life. She responded, "the characters walk into my head whole-hearted. These people emerge from the soup in my head."
Surprisingly, she shared that the character of Roger is her. She relayed some of her own thoughts and both real and imagined interactions with her own parents. I found that to be such an interesting personal revelation because Roger is pretty annoying and selfish. I think she's being hard on herself and relaying the worst of what is in her heard. I admire that honesty.
She laughed about her writing process. She suggested that anyone who set out to write should do it in an orderly way, writing an outline and certain number of pages a day but that wasn't how it worked for her. She thought about the book for three years, letting it come together inside her head then spent six weeks allowing it to flow out of her head and onto the page, almost completely in its final form.
She grew up in the town of Rye in Sussex and Henry James lived in her hometown. She was influenced by English writers from the 1930s and before like James and his friend, Edith Wharton and others like P.G. Wodehouse, Somerset Maugham, and, of course, Jane Austen.
She feels like modern writing is a product of our post-Hemingway world – short, simple, clear statements. She loves the English language and using a wide vocabulary and descriptive prose. She did say Cloud Atlas by David Mitchell has it all "Others can stop writing and go home. He can do it all."
She met her husband, an American exchange student in England, they fell in love and she moved to New York. She had children and was a stay-at home mom. Needing more than playtime and diapers, she began writing at workshops as a way to get out of the house and have intellectual conversations with other adults.
This led to her getting an MFA and writing Major Pettigrew's Last Stand with the support, structure, and feedback of professors and others in the program. She published it at age, 45, saying, "I hope I am living proof that it is never too late to follow your passion, or find a new vocation."
The Summer Before the War, her second novel was written very differently, alone and without that support system. She said it was a lot more work and deeper in it's message because it is historical and about a war, it required more research on the Edwardian age. When I asked her why we should read it, she said because she is paying for her two children's college educations and her MFA, that's why! That British wit! Within just the first few minutes of talking with her, the source of the Major's dry humor was clear and ringing!
She is currently writing her third book. It is more humorous, more like Major Pettigrew. She says it is often a struggle because real life in our current time is stranger than fiction.
We asked about prejudice in England and how true her depiction was. She said it is pretty bad, even worse than her book portrayed and noted, "Prejudice is a human condition, not an America condition."
We concluded our wonderful discussion with Helen, where she encouraged us to Skype her again after we read The Summer Before the War! We'll do that  We will probably read it next Spring or Summer.
We talked a little more about this fun but many-layered book, drank more wine, and shared some of our favorite quotes from the book.
While the lake lapped at their feet and the mountains absorbed their calls and the sky flung its blue parachute over their heads, he thought how wonderful it was that life was, after all, more simple than he had ever imagined."

…I tell myself it does not matter what one reads–favorite authors, particular themes–as long as we read something. It is not even important to own the books.

…as I get older, I find myself insisting on my right to be philosophically sloppy.
The day before book club, I reached out to one of our members and asked her to come, even though she hadn't read the book, because she hadn't been in a while and she was born in India and could provide some additional insight. It was an interesting dynamic that the rest of us were interpreting the book explaining it to her. I found it to be a very intriguing method of discussing a book. See, I'm tricky like that!
She also brought peshwari naan (naan bread stuffed with pureed fruits and nuts) with a ginger and cottage cheese sauce and she deemed the chicken tikka masala as excellent! You thought I wasn't going to talk about the food, do you know me at all?!
The food for Major Pettigrew's Last Stand book club
Here is the recipe our hostess, Gail, used to make the chicken tikka masala from AllRecipes.com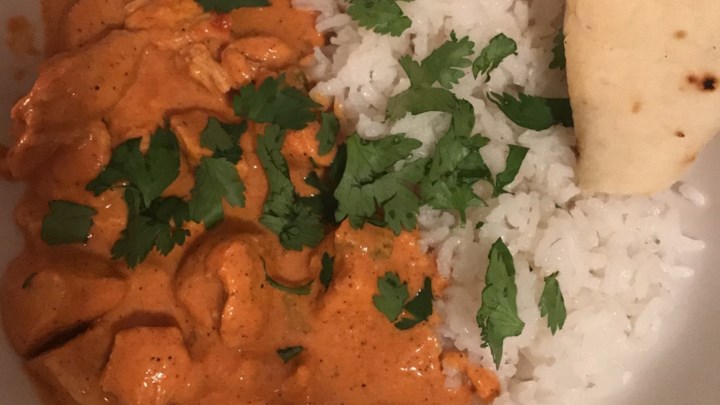 She also made a madeira cake with jam and grilled peaches. It's basically pound cake and you are supposed to drink madeira or sherry or other liqueur with it.
We had wine and tea with a little somethin' somethin' added! And the tea was made in an authentic Russian samovar (what a funny production). There is a fire in the pot with the tea and it has a smoky flavor to it. It's really pretty but a possible fire hazard. Gail kept wanting to bring it inside. Her husband didn't think it was a good idea! Funny! Since we were enjoying book club outside, anyway, it worked out! Haha!
Others added cheese and homemade tea cookies – using a friend's British "authentic" recipe, she painstakingly translated the metric measurements, then realized they were the same as her grandmother's recipe.
We also had homemade peach salsa/bruschetta and peach cobbler. It was a wonderful peachy summery night with good friends!